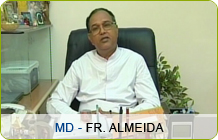 Fr. C. Rodrigues Institute of Management Studies ( FCRIMS ) which commenced its academic activities in August 2001, is a recent addition to the Agnel fold but the last seven, speeding years have seen this institution taking giant strides to find its place among the premier, business schools of this country.
'The Agnel Business School' , as it is popularly known, has truly followed Harold Taylors maxim – "The roots of true achievement lie in the will to become the best that you can be". The dedication, commitment, leadership and teamwork of our administrators and staff members have been the motivating forces behind the successful performances and excellent placements of the six batches of students, who have stepped out of this institution so far. They have gone out as focused and committed professionals who can make a difference in the world
The world that our students are now stepping into, is vastly different from the one, even ten years ago. Indian Companies can now compete with the best in the world. The forces of globalization and technology are reshaping our world. So, naturally, the task before our upcoming managers is an arduous one. Along with professional expertise, they also need to be effective team leaders and team members, who will 'walk their talk' and carry their team along on the path of progress.
As Mr. N. R. Narayan Murthy aptly says, "In any field, we have realised that, unless the human aspect is addressed, one cannot deliver effective solutions".
"Pursuit for Excellence" has been a distinctive feature of all the institutions run by the Agnel Ashram Fathers'. Likewise, the Agnel Business School will continue to reinforce the belief that, a crucial factor for success has always been "Excellence", whether it is business, sports or arts. As an educational institute that caters to overall development of people, it will always strive to establish that excellence can be acquired only by relentless training, innovation and constant self-improvement. Walking out of the portals of FCRIMS, as future leaders of this nation, our young friends will be fully aware that they have a responsibility, so rightly summed up by Henry Ward Beecher as :"Hold yourself responsible for a higher standard than anybody expects of you. Never excuse yourself" .